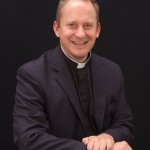 Here is a guest post in our series on the culture wars from a friend, one time fellow barista, and former student of mine, Fr. Matt Boulter. More about Matt can be found at his blog: Religiocity.
In about the year 6 AD in ancient Palestine, with winds of revolution blowing in the air, a Jewish militant called Judas of Galileerose up in defiance of the oppressive Roman government, at that time brutally plaguing the Jewish people. In his revolutionary zeal Judas does three things:
Rids the Temple of Gentiles by force.
Preaches for people to forsake Caesar in favor of hi view of the Kingdom of God.
Calls Jews to refuse to pay some taxes to Caesar.
Shortly after his anti-Imperial mutiny, Judas was summarily attacked, captured, and executed. His revolutionary followers, thus, disbanded and went home. Fast-forward the story about a quarter century, when we encounter one Jesus of Nazareth who does some very similar, and yet entirely different things. Continue reading →