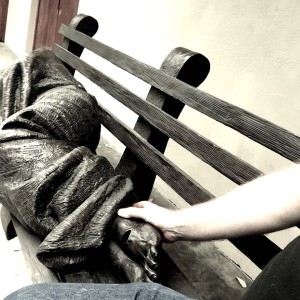 I suppose that it behooves a Christian man, from time to time, to give a plain and simple account of his faith.   I can't tell you that I am feeling particularly inspired to do so in this moment. Frankly, I find myself a little short on inspiration in general tis evening and feel there are, what do we call them, "pressing matters," to take care of but it seems as good a time as any to say a thing or two about why this Good Friday is such a big deal and why I choose to build my life around the drama we see unfolding this Easter weekend from today and through the next fifty days of Easter.  Tonight stands before me a simple and fair question to which I intend to give at least one good answer,  "Why, Doug, given all that Christianity seems to have evolved in to, do you bother calling yourself a Christian and carrying on like ya do?"
I plan to start with a short answer and then keep writing till I get something right.  I am not promising exhaustive answers to this question or even several.  I suppose that is why I keep a blog, There is a lot to be said about the life of faith that just takes time and stories.  But, I will start by simply trying to provide an answer that is as short and honest of an answer that I can provide: .
I am a Christian because this is simply the most beautiful story I have ever known, and I want more than anything to be a part of it.