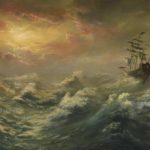 I like to repost blog entries from earlier years, not only because I like to revisit
what I was thinking at the time but I like to consider how changes in our context changes what is important to say in an particular moment.   When I wrote this, I really wanted to underscore the need for grace, in the sense I wanted to emphasize that what happens in lent at its best is a gift of God and not a mere matter of will-power as I am sometimes tempted to think. This year is different.
This year I have been experiencing how this is true on a visceral level. I am somehow more aware than I am unable to say very much that is to interesting or helpful given our current profound division and tension.  In Advent, I even suspected out loud that I (and all of us) might be due for an exorcism.  I still
think that is true.   I still think our imaginations are dominated by someone else's playbook.  We are still speaking someone else's language and hearing someone else's song.   That is all the more reason I feel the need to return to a conversation about grace before we go any further.
If we are going to end up anywhere but in the middle of an inevitable mess, we will need an intervention, an in-breaking of insight, an impossible way out of Egypt, …deliverance? Grace.
It is a good day, today, Ash Wednesday 2017, to remember that we don't have to rely on our mere will power to get us there.   There is a lot of will power going on around us and it seems to be sending us in circles.  More is waiting for us.  More is at hand.  More is near.
   But 'more' asks that we throw ourselves into it's fire. I'd like to think I am ready, willing, and able… but more importantly, I am at least just willing if not ready and able, that God will get us there.
Here is my post from before…