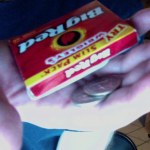 I am almost never disappointed by a ride on the bus in Austin.   To try to explain why is as hard as to try  to explain what is amazing at Burning Man or Burning Flipside. There are too many un-photographable moments and too many unrealistic stories you have to experience  to make you a believer.   But this particular story has bugged me for days, and keeps changing the way I see relationships.  Now to be fair, I was already cranky.  I spent one and a half hours each way on the bus for an errand that should have taken a half hour and took three.  Even so, this seemingly insignificant moment was heartbreaking.  It was kindness turned against itself.  It was a moment turned against grace.   And it was executed with two quarters and a pack of Big Red gum.
The moment was both obvious and simple.  Everything about this woman told me she was not used to riding the bus and was grossly unprepared for how it worked.  "All I want to do," she said exasperated, "is to get back downtown, its just a few blocks."  She was utterly exasperated that the driver did not have change for her five dollar bill.   Admittedly her large sunglasses, chemically tortured hair and gaudy gold metallic purse gave the moment an unmistakable comedic set-up that made me want to just sit and watch it play out.   But I honestly felt sorry for her and because I had a pocket of singles I figured I would just hand her one and call it a day.   She was grateful at first and  the bus kept moving.   My thoughts moved on.
A few stops later she was getting ready to make her exit by ambushing me with two quarters and a pack of Big Red gum.  She was shoving them, a little too intimiately into my lap.   Totally caught off guard,  I found myself shewing her objects off me like they were flies or termites.  Two quarters and a pack of Big Red gum?    All I could say in a very Hollywood-ish vocabulary was, "Pay it forward! Pay it forward!"  I felt stupid. I hate cliches, but this was all I could think to say.
If she had simply said thanks, and really felt a moment of kindness the day probably would have been a wee bit richer.  Instead she tried to repay me with something I did not need.  I felt like I had just been forced to walk into a Walgreens and buy a pack of gum I did not want.  The debt was exaggerated.   The books were left in the red.
She clearly didn't understand what I was saying.  All those chemicals may have soaked through her scalp.   Actually, no.  Not at all.   This wasn't all a matter of intelligence.  She did nothing wrong.  She was simply living in a world of black and red ink that we have all come to live by in some ways.  She tried to pay a debt that wasn't there and we all ended up with what was less than the sum of its parts.
This is a kind of math, apparently, she had not yet studied in life.  How would she have known I really intended there to be no obligation.  Her imagination is loaded with obligations and economics.  In her world she would only be well if she paid back what had been given her. It broke my heart, not because of her personal failure, but ours.  She told a story we all know and by which we are all surrounded.
Giving, as it happens,can leave us enlivened and willing to give.  Obligations, on the other hand,  lose their value almost immediately.  Who knew that, "thank you, " would be so hard to say.   But it is.   It is hard to say to each other and it is hard to say to God.    Gratitude takes practice.  There are no tip jars in a gift economy.
Nevertheless, when we die, it will be the only right thing we ever say.
**some people have rightly observed that the emphasis is off in this piece.  The woman was kind and did no wrong.   She had no obligation to not have an obligation to me.   I hope the emphasis here can be on the opportunity that gratitude affords us, on our own lack of imagination where it applies and not the failures of a kind woman. 
Also on the gift economy: